Kronos was one of the chief gods of Greek mythology, who with his hour glass personified time and with his scythe, fate. The dial of this model depicts a young woman vainly pursuing eternal youth while Kronos inexorably fulfils his mission.
THE DIAL
A Wandering Hour display and a work of art combine in stunning fashion on the few square centimetres of the dial. Engineering has put itself at the service of art, and art at the service of philosophy.
COMPLICATIONS
The first watches with Wandering Hour display go back to the 19th century. This technique has been continually improved, culminating in a patented mechanism, still hold by Vincent Calabrese, that led to the creation of Kronos. The apparent simplicity of the model is inversely proportional to its mechanical complexity.
THE BACK
A special feature is on offer on the reverse side, affording the possibility of viewing the automatic movement through a sapphire crystal.
CASE
Stainless Steel / Glass sapphire
DIAMETER
40 mm
CASE BACK
Open case back / Glass sapphire
DIAL
12 hours
MOVEMENT
ETA 2892A2 – Automatic
POWER RESERVE
42 hours automatic
FUNCTIONS
Wandering Hours
BRACELET
Only brown leather
KRONOS
THE BIRTH OF A MASTERPIECE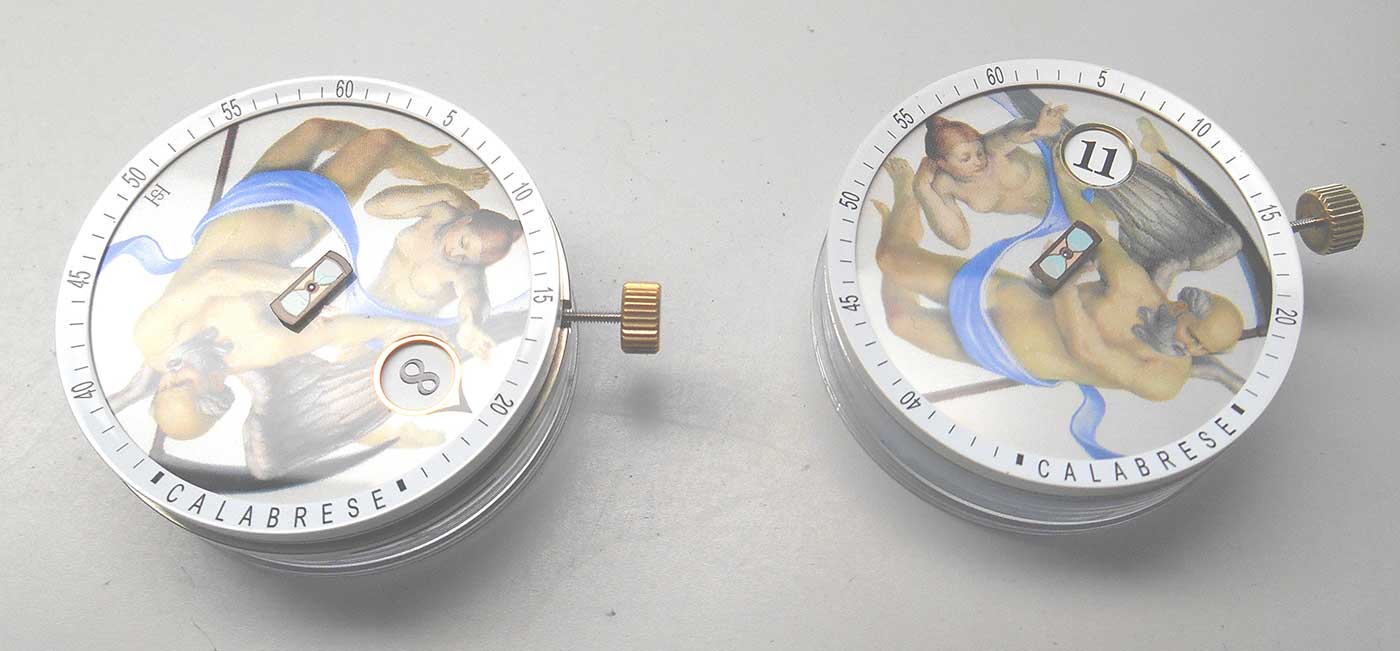 KRONOS, OR THE ENDLESS PURSUIT
Despite the young woman's wishes, time never stops. The hour indicator jumps every 60 minutes, then wanders around the dial to mark the minutes.
The artist Shinji Himeno did Vincent Calabrese the honor of designing the dial. His work opens new horizons. Do you find it surrealist? If it cannot be categorized, it was nonetheless inspired by the Vienna School of Fantastic Realism.
EXPLORE THE ENTIRE COLLECTION
This collection is a celebration of diversity, with complications at the heart of creations that are as playful and poetic as they are philosophical. Each of our models is waiting to be explored. Start your journey of discovery today. We hope to see you soon.