Time is both a witness to and an actor in one of nature's most conspicuous yet most discreet transformations.  One of her most spectacular metamorphoses is surely that of the caterpillar, which with the passage of time is transformed into a graceful butterfly.  Fly'Ora is an allusion to this incredible change effected by the passing time.
Fly'Ora finds its inspiration in the same source as the Fl'Ora model—that is, in nature, which unites the laws of mathematics with the poetry of aesthetics.  With each new hour this watch reveals nature's transformations and her ability to evolve with time, to make time her ally in her achievement of the loveliest of metamorphoses.  In a festival of colors and poetry Fly'Ora is a hymn to elegance and to the marvellous world around us.
THE DIAL
The watches in the Fly'Ora series indicate the time in the traditional way, while employing an ingenious complication that reveals a new butterfly with each new hour. This jump-hour mechanism, while telling us the time, also takes us on a poetic journey through nature, thereby effecting the complex combination of two masterful techniques of the watchmaker's art.
THE BACK
Two types of casebacks are available: one—for models with an automatic movement— which affords a view of the mechanism through an aperture of synthetic sapphire crystal, the second—for models with a Quartz movement—which displays the entire array of the butterflies on the dial.
COMPLICATIONS
The uniqueness of this watch lies in the combination of two complex functions—one, which gives the time by means of hands of the traditional kind, the other, which turns the dial, whereby an aperture reveals a new butterfly of a different color. This latter complication, the jump-hour function, turns the dial by 30º every hour, thereby revealing one of the array of butterflies on offer.
CASE
Stainless Steel / Glass sapphire
DIAMETER
36 mm
CASE BACK
Quartz: Glass sapphire / Légende de l'affichage
Automatic: Open case back /Glass sapphire
DIAL
A choice of colors, with guilloche
MOVEMENT
ETA 955.424 – Quartz
POWER RESERVE
3 years Quartz
FUNCTIONS
Jumping dial every hour
BRACELET
Leather
WATERPROOF
3 bars
PRICE
8.000 CHF Automatic – 2.200 CHF Quartz
How to order
Discover Fly'ora and its functioning
In a festival of colors and poetry Fly'Ora is a hymn to elegance and to the marvellous world around us.
FLY'ORA MODELS
A choice of models is available to preserve the harmony of the world within you.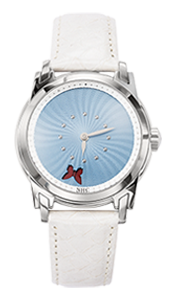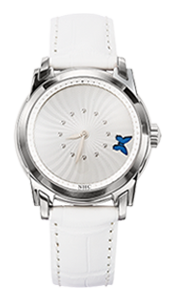 FLY'ORA, VISUAL POETRY
This watch brilliantly reminds us that the beating of a butterfly's wing can have far-reaching consequences.  A symbol of natural beauty and frailty, this creature keeps us constantly aware of all of nature's marvels.
The flight of a butterfly might seem uncertain and hesitant, but that does not prevent it from safely reaching its destination.  This elegant creature of a thousand colors wanders the airways, metaphorically reminding us of our human condition, for our lives, strewn with so many obstacles and constantly forcing us to adapt, nonetheless embrace so much beauty.  The Fly'Ora on your wrist every day will emphasize this truth.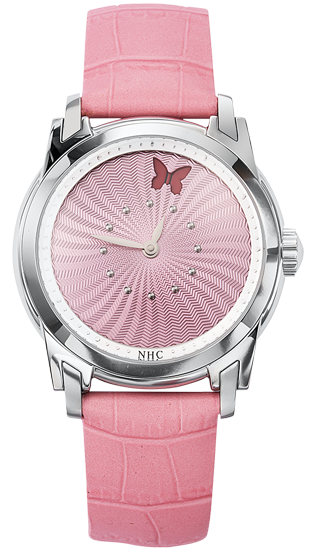 EXPLORE THE ENTIRE COLLECTION
This collection is a celebration of diversity, with complications at the heart of creations that are as playful and poetic as they are philosophical. Each of our models is waiting to be explored. Start your journey of discovery today. We hope to see you soon.